E-mail: filtrationwiremesh@gmail.com
Add: Building 2,Zhufeng Rd,East Devolepment Zone,Shijiazhuang,Hebei,China,050000


Slotted wedge wire screen cylinder are welded by profile V-wire and support wires,it is also called Johnson screen.The features are high ratio filter area because of big opening,vee wire structure are easy for automatic back washing and avoid pipe blocking.The pressure will reduce when water flow in for greater filter area,avoid the grains of sand flow in the wedge wire tube in the high pressure conditions,so make the pipe life longer.Between the same length,diameter and slot size,wedge wire pipe is thrice than bridge filter pipes.
Material: Low carbon steel wire,AISI 304,AISI 304L,AISI 316,AISI316L,high quality stainless steel wire.
Application: With the high-precision,our wedge wire as filter elements used in water treatment industry,oil filtration,paper making,refine sugar,we have inside perforated metal and wedge wire tube outside filter.
Specification:
Diameter of cylinder
25mm,28mm,32mm,38mm,40mm,42mm,45mm,48mm,50mm,53mm,
57mm,58mm,60mm,65mm,68mm,70mm,76mm,80mm,82mm,100mm,
108mm,120mm,133mm,159mm,196mm,219mm,240mm,325mm,400mm,
450mm,480mm,500mm,550mm,600mm,1200mm.
Slot size
0.06mm,0.08mm,0.10mm,0.15mm,0.20mm,0.30mm,0.50mm,............6mm
Length
20mm to 6000mm
Notes
Coutom shape and specification can be made as your request.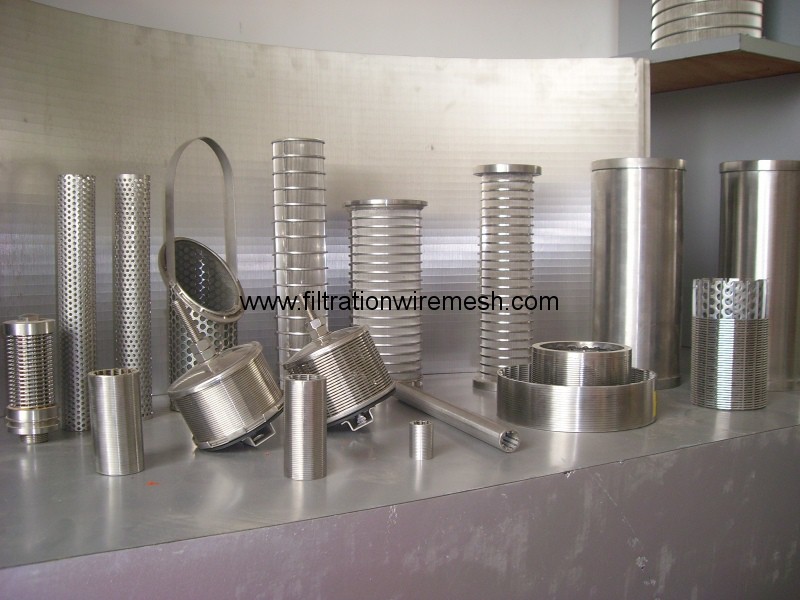 Wedge Wire Screen

Wedge wire screen cylinder are welded by profile V-wire and support wires,it also called Johnson screen.The features are high ratio filter area...

More>>
Wedge Wire Sieve Bend Screen

Wedge wire sieve bend screen is a high efficiency curve separate madia by wet material pressure.
Vee wedge wire screen have high strenthen and ...

More>>
Wedge Wire Trommel Drum Screen

Nanrui trommel screen rotary wedge wire drum type in stainless steel 304,it is used to separate solids from liquids or solids.
Slot size from 0...

More>>
Centrifuge Screen Baskets

Wedge wire screen basket as the key part used in Centrifuge require high precision and strength.It work at rotary screen will support the pound by wat...

More>>
Wedge Wire Filter Nozzles

Wedge wire screen filter nozzles as the important parts used in the water treatment equipment for power plant,waste water processes, the Vee shape wir...

More>>
Wedge Wire Grate Drainage

The stainless steel wedge wire grate used in shower room,floor and outdoor.Width and length can be custom as request,this type grate is beautiful and ...

More>>